Dec. 29, 2021
The final days of 2021 are drawing near and it should also be the time for the grass pollen counts to be declining to LOW or generally imperceptible levels. However, the 2021 spring and summer hay fever season is not playing by the usual rules.
It has been an exception year with all manner of records being broken during the months of October to December. These months encapsulate the beginning (1st week of October), peak period (November) and end (usually mid-December) of the grass pollen season. Figure 1 shows the latest daily grass pollen count graph for the 2021 season. Overall, it depicts the slightly delayed but then rapid escalation of grass pollen levels by mid October, and from then on our monitoring data show 27 EXTREME grass pollen days and a record grass pollen count of 510 grains/m3 (17th November, 2021) across the rest of the season.
It has now been 10 days since we last had an EXTREME day (19th December), which was on the weekend that ACT Health issued a thunderstorm asthma warning for the ACT. Since that time we have continued to see elevated grass pollen - though there does appear to be a general decline in the counts as the end of the year approaches.
Figure 1. Daily grass pollen counts for Canberra from 1st September to the 29th December 2021. The histogram shows daily counts colour coded to match the accepted pollen levels reported by CanberraPollen.com.au. EXTREME days are when the airborne grass pollen concentration is 100 or more pollen grains and these days are the worst for hay fever and asthma sufferers.
Another way of looking at the pollen record is through the lens of the cumulative pollen count. Figure 2 shows the persistent and very high levels of daily grass pollen counts throughout the 2021 season compared to other years, and though there is a flattening of the pollen curve as we approach the end of the year, we have every reason to believe that grass pollen will continue at HIGH to MODERATE levels in our airborne pollen counts* through to the New Year and into January. This is likely due to the recent December rains and persistent green (continued growth) of our regional grasslands.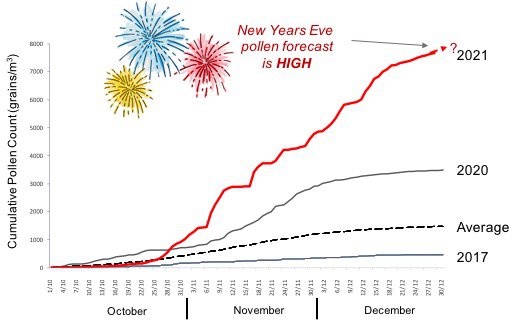 Figure 2. Cumulative grass pollen count from 1st October through to 31st December for the period 2007-2009 and 2014-2021. The data summarizes the grass pollen count from the lowest record season (2017) to the previous highest record season in 2020. The average cumulative pollen count is shown as the black dashed line (including counts from 2007-2009 and 2014-2020). The cumulative grass pollen count for 2021 up until 29th December 2021 is shown by the red line. Our forecast suggests that New Years Eve and New Years Day will be HIGH days for grass pollen.
While we are all looking forward to a better 2022 it will be important for all those who suffer from hay fever or asthma to continue to take precautions - simple steps to take include (i) airborne pollen avoidance, (ii) take recommended medication, and (iii) continue to monitor the daily pollen forecasts at canbeerapollen.com.au to help plan your day.
* A MODERATE day is one when the average daily concentration of grass pollen is 20 grains or more per cubic metre of air, a HIGH day is when there is 50 grass grains or more and an EXTREME day is one when there's 100 grass pollen grains or more. HIGH and EXTREME days are our worst days for hay fever and asthma.