Sept. 16, 2015
Spring has well and truly sprung in Canberra and along with it comes some wild weather. On Tuesday 15th September Canberra experienced strong winds from a NNW direction, reaching speeds of 50km/hr in the morning, that may be a harbinger for the season to come. The Canberra Pollen team have begun to monitor daily pollen in our air in order to test the monitoring system and to ready ourselves for the official start of the counting and forecast on October 1. What we saw in our pollen trap showed us that, even though there is as yet little grass pollen present, there are extreme levels of other pollen types currently swirling around the ACT. These include Cupressaceae ("Cypress"), Pinus ("Pine"), and Fraxinus (Ash), all trees that are commonly planted in and around Canberra (See image below).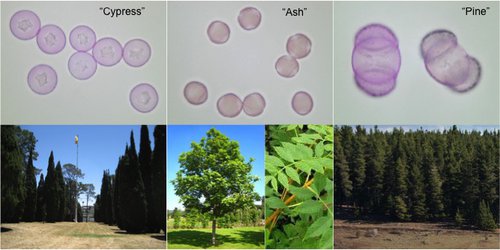 All these pollen types can produce allergic reactions in some people so that best way to be aware of how your hay fever symptoms are tracking with the changes in air-bourne pollen is by downloading our app CanberaPollen and following us on Twitter (@CanberraPollen).
Next Sunday the BOM forecast indicates that the north-westerly winds will pick up again in combination with a warm sunny day that will bring people out to enjoy the wonderful things that Canberra has to offer. As we approach the onset of the grass pollen season it would be wise for those who suffer from hay fever to take precautions when going out on days like this.