Nov. 30, 2019
The geography and climate of Canberra has a lot to do with its status as the nations number one hotspot for hay fever. Its land-locked location in the heart of a rich agricultural region, plus a climate and urban landscaping history that supports a high diversity of introduced plants from both cool and warm temperate origins, means that there is little chance for relief during the months when allergy-related plants produce pollen. The grass pollen season usually begins in the first week of October, peaking November (dominated by Rye Grass or Lolium sp.), extending into a secondary peak during late January and early February (including warm climate grasses). This year we saw a normal start to the grass pollen season with grass pollen concentrations rising around the 2nd October, with 2 days of HIGH grass pollen being recorded on the 16th and 28th October (Figure 1). We would then expect to see peak grass pollen recorded in November, but this did not happen.
Figure 1. Grass pollen and Alternaria spore concentrations compared to key climate parameters, August through to November 2019. (A) Daily rainfall (mm) and dust storm events (high PM2.5 days). (B) Daily grass pollen and Alternaria spore concentrations (grains/m3) against the international scale of LOW, MODERATE to HIGH. Note that the grass pollen season began on the 2nd October 2019 and the spring Alternaria season began ~2 weeks earlier on the 21st September 2019.
Why were grass pollen levels so low during November 2019? One possible explanation lies with the current drought conditions being experienced across NSW and the ACT. The low winter-spring rainfall, low soil moisture and absence of green grass cover appears to have resulted in persistent LOW pollen levels during November (Figure 2). This pattern has been observed in previous years of pollen monitoring in the ACT, with wet years resulting in HIGH grass pollen production and drier years resulting in LOW grass pollen production.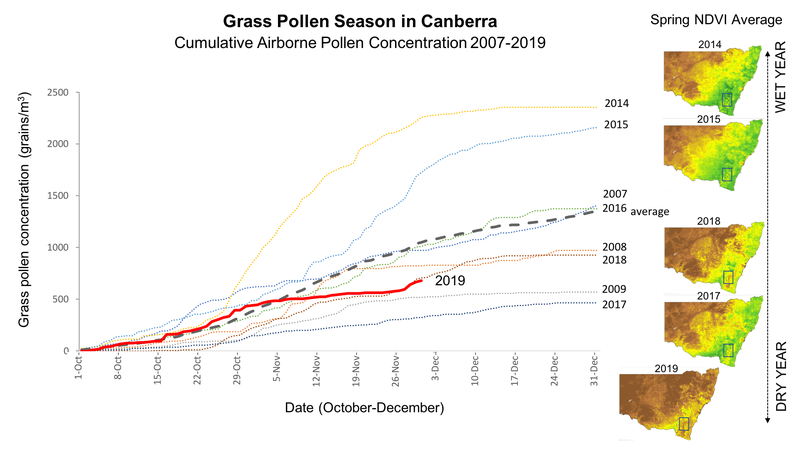 Figure 2. Cumulative grass pollen concentrations recorded during spring of 2019 compared to the available data from previous years of grass pollen data (collected from October to December). This year the amount of grass pollen is tracking well below average and the period of peak grass pollen production (November) failed to produce HIGH to EXTREME grass pollen days. The current drought has resulted in very low vegetation productivity illustrated by the clear contrast in spring NDVI average for wet and dry years across NSW and the ACT.
The grass pollen is LOW but I still have hay fever!
Despite the LOW grass pollen measurement many people have reported suffering from hay fever or asthma symptoms this spring in Canberra. This year we recorded a coincident rise in the allergenic fungal spore, Alternaria, during the months of October and November, which may have exacerbated the impacts of poor air quality (dust and smoke) during this period. Alternaria is a fungal spore that can be found in outdoor and indoor living environments and is known to be a significant potential cause of hay fever and asthma in our region.
For daily updates and further information see AirRater and CanberraPollen.