Dec. 28, 2019
The persistence of POOR to HAZARDOUS air quality conditions as reported by ACT Health Directorate is a result of this years early and long fire season where extensive bush fires burning along the NSW Great Dividing Range and coastal bushland are coupled with heat waves and low winds (Figure 1). The spring and summer has exposed Canberrans to the Big 3 particulate air quality challenges - Smoke, Dust and Pollen!

Figure 1. Smoke haze across Canberra a persistent feature of Summer 2019 (Photos: Simon Haberle).

Monitoring the changes in air quality in our region is a critical part of understanding how to forecast and manage the public health impacts of the air we breath in our city. The records of PM2.5 (small particles often associated with smoke haze), PM10 (larger particles often associated with dust storms) and pollen (allergenic airborne particles) are published at regular intervals online so that the public can be informed about current air quality conditions and make informed decisions about their daily activity. The freely available apps - CanberraPollen and AirRater not only compile data on these environmental variables but also ask users willing to participate in a respiratory health survey to rate their symptoms (eye, nose and throat irritation) throughout the year. In a recent publication of the results of this survey from 2014 to 2017 we showed that citizen science can help understand risk factors for respiratory health (or allergic rhinitis) and that outdoor grass pollen levels are strongly correlated with increased respiratory health symptom scores. The implication of this work is that well designed apps such as CanberraPollen and AirRater can provide valuable insights into the current state of respiratory health across a population.
The spring and summer of 2019 in Canberra have been particularly unusual on a number of fronts with high tree pollen levels resulting on a longer and stronger hay fever season, frequent dust storms and the recent persistent pall of smoke blanketing the region resulting in increased presentations to the Canberra Hospital. Figure 2 complies the data on smoke, dust and grass pollen for the last 3 months (October to December 2019) and compares these environmental variables to symptom scores (number of responses to symptom survey in AirRater) each day. This is the first look at how the survey responses are correlated to a range of environmental variables and the results provide a stark impression of how significant the impact of smoke and dust - in addition to pollen - can be on our respiratory health.
The month of October saw a much reduced grass pollen season due to the drought conditions and very low plant productivity across the region and a low response rate to the symptom survey. The strongest response to the symptom survey occurs in November and December when dust storms (PM10) and strong smoke haze (PM2.5) become more frequent and intense. A very high correlation coefficient is recorded between PM2.5, PM10 and symptom scores during this period (r2 = 0.66-0.81) and shows how often the survey population were registering irritation to eyes, nose and throat during these events. The difference between heightened symptom responses to smoke and dust events relative to low responses on the HIGH pollen days may also be due to a wider demographic being susceptible to irritation from smoke and dust particles.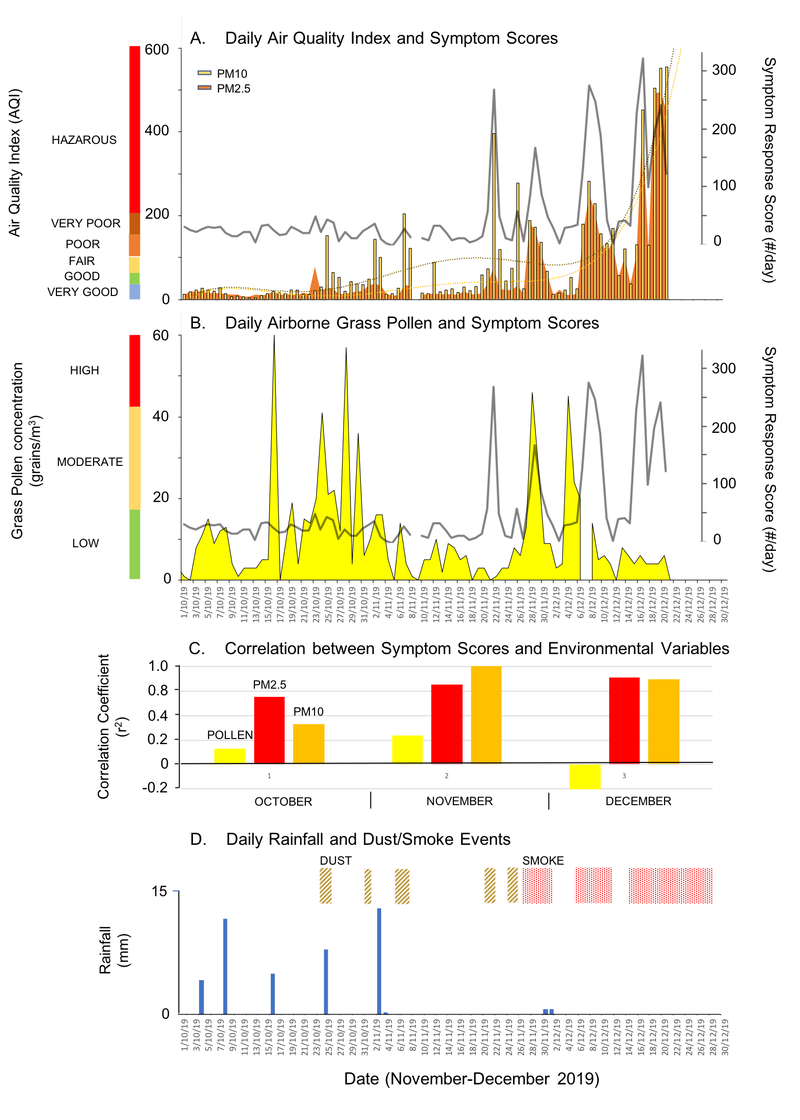 Figure 2. Key environmental variables related to daily air quality in Canberra during the October to December period of 2019 compared to numbers of symptom responses recorded via AirRater [black solid line]. (A) Daily Air Quality Index (24 hour average across 3 stations in Canberra recording PM2.5 and PM10) compared to AirRater Symptom Scores (number of responses per day). (B) Daily Airborne Grass Pollen and AirRater Symptom Scores. (C) Correlation Coefficient between AirRater Symptom Scores and Environmental Variables (Pollen, PM2.5, PM10). (D) Daily Rainfall (mm) and Dust/Smoke Events as recorded in Poor to Hazardous PM2.5 and/or PM10 levels. Data sources include www.canberrapollen.com.au and www.airrater.org, www.health.act.gov.a, and www.bom.gov.au.
This research has also highlighted the need for improvements to the frequency and spatial accuracy of reporting, for example more pollen monitoring stations are needed to provide improved spatial variable estimates of daily pollen across Canberra. Issues also arise when what people see does not conform to online reported values. Social media - Twitter - is awash with questions about why the smoke haze is so thick and yet the Air Quality Index is reporting Good to Fair (a result of reporting being limited to 24hr average values only). Those of us living through this summer in Canberra will attest to how variable the intensity of the smoke haze is over a 24 hr period with clear to almost "white out" conditions experienced from hour to hour. More detailed hourly raw PM2.5/PM10 values could be provided to the public in addition to the 24 hour average currently available in order to allow for better planning and management of daily activities during smoke or dust storm events.
Continuous monitoring of environmental variables related to population health is a critical part of understanding and coping with the challenges of living in the world - this is no more important now during a time of rapid and clear climate change. The particulate air quality challenges that are revealed in this study and are being experience in real time during this spring-summer are potentially representative of a "new norm" and if so the data being gathered now will be critical for developing future management and adaptation strategies needed to live in a transformed environment.
For further information on minimising the health impacts of outdoor smoke, refer to the ACT Health Directorate website factsheet.
For those interested in monitoring the levels of smoke in the air (PM2.5), see the Health advice for smoky air page