Sept. 28, 2021
Canberra is renowned for its urban tree-scapes and beautiful public and private gardens - no more so than during the Spring season when blossoms, birdlife and buzzing bees adorn the city. Despite the lockdown of 2021 Canberrans still have to deal with the everyday changes in our seasons and the need to reduce the impact of airborne allergenic pollen on our respiratory health. This September 2021 has seen a significant rise in the length, strength and abundance of the tree pollen season in Canberra compared to last year at the same time and it came in two waves of peak pollen in the air.
Here's a quick rundown of the airborne pollen record for September 2021 (see Figure 1):
During the month of September 2021 we experienced high levels of tree pollen in the air coming in two significant waves of HIGH to EXTREME levels of allergenic tree pollen, including Cypress Pine, Pine, Elm, Birch, Oak and Poplar tree pollen. This contrasts with last years season when a single wave of elevated levels of tree pollen was observed.
The start of the pollen season for many tree pollen taxa began up to a week to 10 days earlier this year compared to previous years. This includes an early start to the Elm, Birch, Poplar and Plane tree pollen seasons.
An earlier start to the pollen season for some trees may relate to a range of environmental factors including (i) the warm and wet winter along with high soil moisture, (ii) the slightly warmer (+1 deg C) and much wetter start to spring this year, and (iii) a longer term trend driven by warmer temperatures and higher CO2 in the atmosphere that are known to cause a lengthening of the pollen season and greater abundance in pollen production - both factors that we predict will strengthen with future climate change.
The total allergenic tree pollen load (TPL) for the month of September was ~60% greater than that recorded last year with Cypress Pine and Poplar tree pollen producing the lions share of the pollen we all inhaled this month.
The combination of abundant introduced (Northern Hemisphere) allergenic trees planted in our streets and public/private gardens, plus our inland location where we are surrounded by rye grass pasture, are just some of the factors that lead to 1 in 3 Canberran's suffering from hay fever and asthma - the highest in Australia.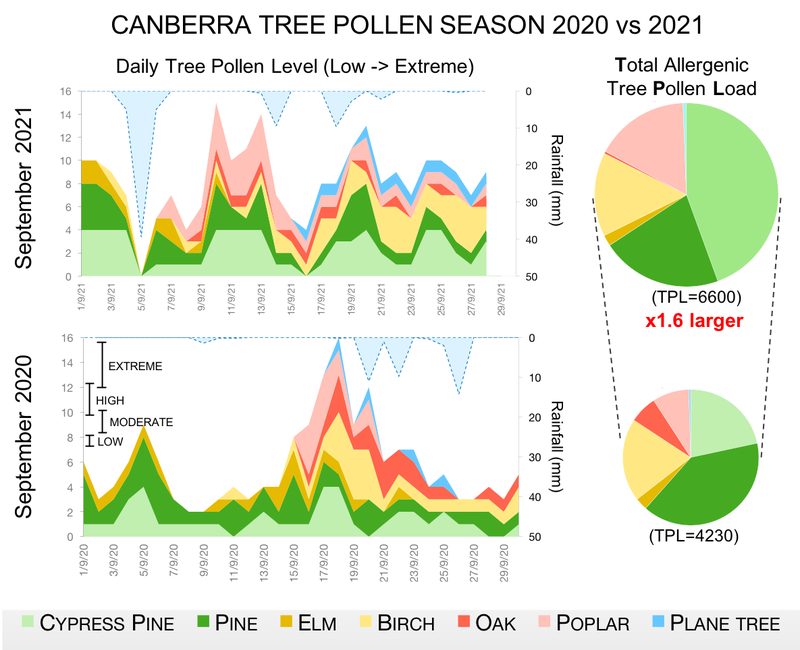 Figure 1. Comparison between the daily airborne allergenic tree pollen levels recorded during September 2020 and 2021 in Canberra. The daily pollen levels (LOW = <20 pollen grains/m3; MODERATE = 20-50 grains/m3; HIGH = 50-100 grains/m3; EXTREME = >100 grains/m3) for the key allergenic tree pollen taxa Cypress Pine (Cupressaceae), Pine (Pinus), Elm (Ulmus), Birch (Betula), Oak (Quercus), Poplar (Populus), and Plant tree (Plantinus) are plotted against days during September. Daily rainfall (mm) is plotted in reverse showing rain days that help to suppress the daily pollen count. The total allergenic tree pollen load (TPL - total of all tree pollen counted) for the month of September and the relative proportions of each key tree taxa is displayed in a pie chart. The TPL for September 2021 is 60% bigger than that recorded during September 2020.
We are closely monitoring the grass pollen count to see when it will start this year - experience tells us that it is just around the corner and it is expected to begin in the next few days at the start of October. The majority of Canberran's that suffer form hay fever are allergic to grass pollen and the grass pollen season runs from the beginning of October through to early February. During these months the strong NW and NE winds can bring EXTREME levels of grass pollen into the city, and combined with thunderstorms, can create hazardous conditions (thunderstorm asthma) for those susceptible to hay fever and asthma.
Be sure to keep up to date on the latest grass pollen forecasts through the CanberraPollen website and phone app.