Dec. 28, 2020
The grass pollen season for 2020 is all but over as we see the last vestiges of a record-breaking season hanging on with some MODERATE and LOW days through the last 2 weeks of December. The weather over the last 6 months played a key role in producing conditions suitable for the bumper grass pollen season of 2020. Elevated rainfall related to La Niña conditions in the Pacific Ocean and the persistent rains of spring and early summer around Canberra, resulted in high grassland productivity and a greater potential for grass pollen to be produced (Figure 1).
Figure 1: Three-monthly rainfall anomalies for New South Wales/ACT for spring 2020 compared to the long-term average (1961-1990). Source Commonwealth of Australia 2020, Bureau of Meteorology.
The graph in Figure 2 provides an update from the spring mid-season report where we track the season by plotting the cumulative grass pollen count since October 1. The final graph for 2020 compares this year with all previous grass pollen seasons for which we have data, confirming that this year stands out as well above the average (3x greater, n=10 sample years) and around 40% greater than the previous record high in 2014. Key features of the 2020 curve include:
record high early part of the season with several MODERATE and one HIGH grass pollen day recorded in September, at least a week earlier than previously recorded
a suppressed period of grass pollen between the 24th October to the 5th November when high and persistent rainfall (~84 mm rainfall across these two weeks) resulting in low pollen counts
rapid growth of the grass pollen curve occurred between 5th November through to the 5th December. Multiple HIGH to EXTREME days where recorded during this period with the last HIGH pollen day occurring on the 5th December.
the curve begins to flatten after the 5th December but is continuing to edge slightly higher even through to the end of December with some MODERATE grass pollen days still possible.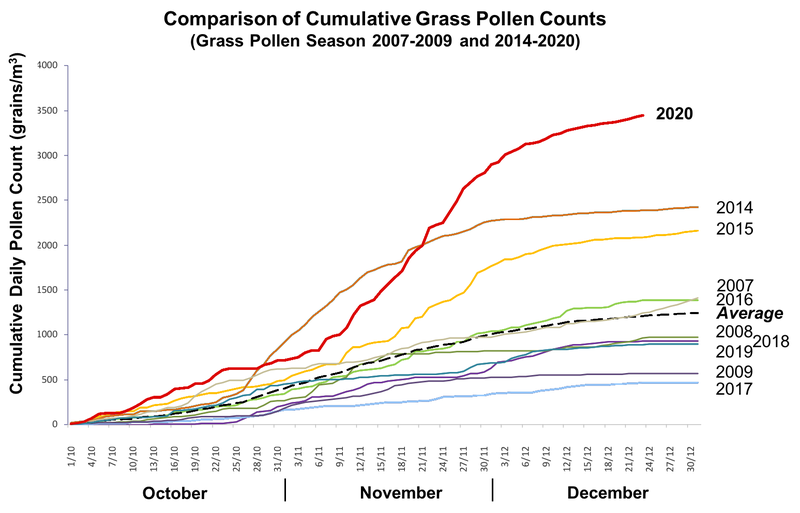 Figure 2: Cumulative grass pollen count from 1st October through to 31st December for the period 2007-2009 and 2014-2020. The data summarizes the grass pollen count from the lowest record season (blue - 2017) to the highest record season before 2020 (brown - 2014). The average cumulative pollen count is shown as the black dashed line (including counts from 2007-2009 and 2014-2019). The cumulative grass pollen count for 2020 is shown by the red line.
Another way to summarise the grass pollen season is to look at how many, MODERATE, HIGH and EXTREME days we've had across the season. A MODERATE day is one when the average daily concentration of grass pollen is 20 grains or more per cubic metre of air, a HIGH day is when there is 50 grass grains or more and an EXTREME day is one when there's 100 grass pollen grains or more. HIGH and EXTREME days are our worst days for hay fever and asthma.
In Table 1 you can see that an average Canberra grass pollen season has 21 MODERATE, 4 HIGH and 1 EXTREME pollen days. The 2020 grass pollen season stands out as extraordinary, with record numbers for all measures used in this comparison, including twice as many EXTREME days than previously recorded in Canberra and the highest single day count of 193 pollen grains/m3 on the 22nd November.

*calculated from 1st October to 23rd December 2020
Table 1: Summary of the number of days when the grass pollen count is MODERATE, HIGH or EXTREME, maximum recorded daily count (grains/m3) and total cumulative count for key seasons. Comparison is made between the lowest record season (2017), the highest record season before 2020 (2014), the overall average (2007-2009 and 2014-2019) and the 2020 grass pollen season. Total days in a grass pollen monitoring season = 92
A significant feature of this season was the issuing of 5 Thunderstorm Asthma warnings for the ACT, spread across either 1 or 2 days (see ACT Health website). These warnings were issued for the following days:
Weekend of 24th-25th October
Saturday 1st November
Thursday 12th November and Friday 13th November
Sunday 22nd November and Monday 23rd November
Tuesday 1st December
This is the first year that thunderstorm asthma warnings have been issued in the ACT. The impact of these warnings on Canberrans and our ability to mitigate the potential risks by following the ACT Health Thunderstorm Asthma advice is yet to be assessed, but it was clear that there were significant respiratory health issues emerging during the period that warnings were being issued. Three of these warnings occurred on weekends when the potential for people to be outside is likely to be higher - increasing the risk of Thunderstorm Asthma for vulnerable people. Anecdotal evidence certainly points to elevated pollen and potential thunderstorm asthma events contributing to the rise in people experiencing respiratory problems contributing to elevated levels of presentations to the hospitals across Canberra.
Thankfully, lower levels of grass pollen are now being recorded and are predicted to continue through to mid-January at least. A minor rise in grass pollen is to be expected in the mid-late January period and ongoing spikes in the allergenic fungal spore, Alternaria, are likely to continue during the summer months. For the latest information on these and other airborne allergens keep checking AirRater and the Canberra Pollen app and website