Oct. 15, 2019
The appearance of abundant amounts of "fluff" blowing around our city in the last week is a phenomenon well know to Canberrans and has come to signify some significant events in the spring calendar. The fluff itself is in many peoples minds linked to allergic reactions such as hay fever or asthma, but it is unlikely to be a direct trigger. The "What the Fluff?" explainer provided by the Fenner School at ANU is a great summary of where the fluff comes from and why we see so much of it in the streets of Canberra. It is also has a very strong association - at least in the minds of anyone who has experienced the pressure of being a high school or university student - with the looming examination period and the need to lock yourself away and study hard for those end of year exams.
The Poplar and Willow trees that produce most of the fluff have been producing lots of pollen during the last 4 weeks of September and early October, and it is these pollen types that can produce an allergic reaction in some people, but that phase is almost over and we now see the outcome of the pollination process - the production of seeds that are coated in white fluff promoting wind dispersal of the seeds across large distances.
Figure 1 shows the tree pollen types that have been dominant in the Canberra atmosphere during the September to mid October period. Each pollen type can play a role in hay fever or asthma sufferers symptoms, depending on their sensitivity to the different tree species. However, by far the most significant cause of hay fever in the ACT is the grasses (particularly Rye Grass) that is beginning to increase in the first weeks of October at around the same time as the "fluff" is appearing. This may cause some confusion with people who attribute the "fluff" to their hay fever or asthma symptoms, but it is most likely the less visible but more potent increase in grass pollen is causing those itchy noses and sneezing at this time..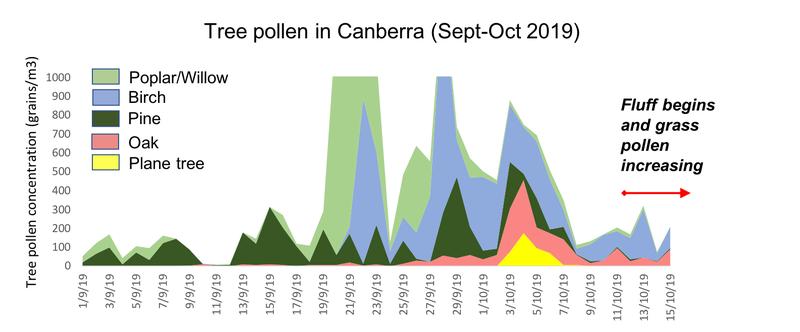 Figure 1. The concentration of major tree pollen types during the month of September and up until October 15, 2019, in Canberra. The dominant airborne pollen types are Poplar/Willow (Salicaceae), Pine (Pinus sp.), Birch (Betula sp.), Oak (Quercus sp.) and Plane tree (Platanus sp.). The Canberra "fluff" and grass pollen become prevalent in the air at around the same time (early October each year)
How much are you breathing in over these first few weeks of spring. Figure 2 shows the relative proportion of tree pollen that people are breathing in over the first half of spring. This will shift to be more dominated by grass pollen over the next few weeks and into November.

Figure 2. The relative percentage of different tree pollen types inhaled by people in the ACT during the first half of spring (2019). Poplar/Willow, Birch and Pine tree pollen are the most abundant.
Be prepared
If you want to be prepared for the spring pollen season, people with hay fever should learn asthma first aid, see their GP if they think they may also have asthma, follow their hay fever treatment plans and have asthma reliever medication suitably available. People with asthma should ensure they have had recent review with their doctor and achieved good control of symptoms. Also remember to take any prescribed preventer every day, even if no symptoms, have an asthma action plan that includes thunderstorm asthma, and always carry their asthma reliever with them.
Remember, everyone should avoid thunderstorms in grass pollen season (October-December and late January-early February) especially the wind gusts that proceed them. Grass pollen counts and forecasts will be available at www.canberrapollen.com.au and via our free mobile apps for Apple and Android which are updated daily at around 10:30am. The AirRater app also provides daily information on pollen and smoke particles in our region.