Jan. 7, 2015
The pollen monitoring season may have come to a end on the 31st December 2014 but we can now start to sift through the data and begin to discover new insights into how pollen impacts people in our region. As we predicted earlier 2014 has been one of the more severe seasons on record with just under 2500 grass pollen grains caught in our trap. That's an average of just under 30 grass pollen grains per day, a number that sits close to our high range. We also had a record run of 14 consecutive high to severe pollen days this season – these are days when most people with a grass pollen allergy experienced symptoms. The beginning of this period (26th October) was also a day of record asthma-related presentations to the Emergency department at the Canberra Hospital (see Figure 1).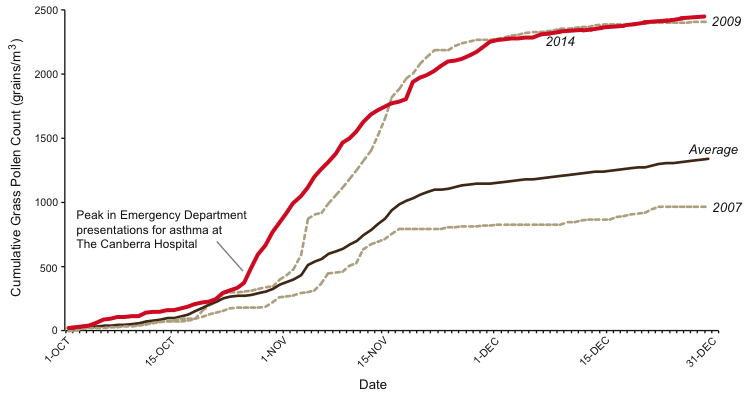 Figure 1. The cumulative total of grass pollen grains for four seasons in Canberra (2007-2009 and 2014).
One of the exciting features of the Canberra Pollen monitoring project is the survey question where you've been able to tell us through our app about your daily hay fever symptoms. This season we received an amazing 6250 survey responses from 1250 different people. This experiment in 'citizen science' has provided us with a fantastic and quite unique insight into hay fever in Canberra and how it relates to what we do, which is count grass pollen.
The first outcome is that it's been satisfying to see that the average daily score for hay fever symptoms closely tracks our daily grass pollen count (see Figure 2). We'll be talking a lot more about this relationship down the track and comparing this with our collaborators in Melbourne where this years grass pollen season was remarkably mild.
Figure 2. The cumulative total of grass pollen grains versus the mean survey response for 2014. 0 = no symptoms -> 5 = severe symptoms.
The second outcome is that the information you provided to us has allowed us to pinpoint suburbs within the ACT and immediate surrounds that recorded the most severe hay fever suffering during the 2014 season (see Figure 3). The responses to the survey that you sent to us were broken down into five categories that represent the deviation from the mean response across the region. The results show that there are a number of suburbs that are well above the regional mean and can be considered as hotspots for hay fever. Hotspot suburbs include Casey, Franklin and Reid in northern Canberra, Gilmore, Isabella Plains and Calwell in southern Canberra, and Karabah and Jerrabomberra across the border in Queanbeyan.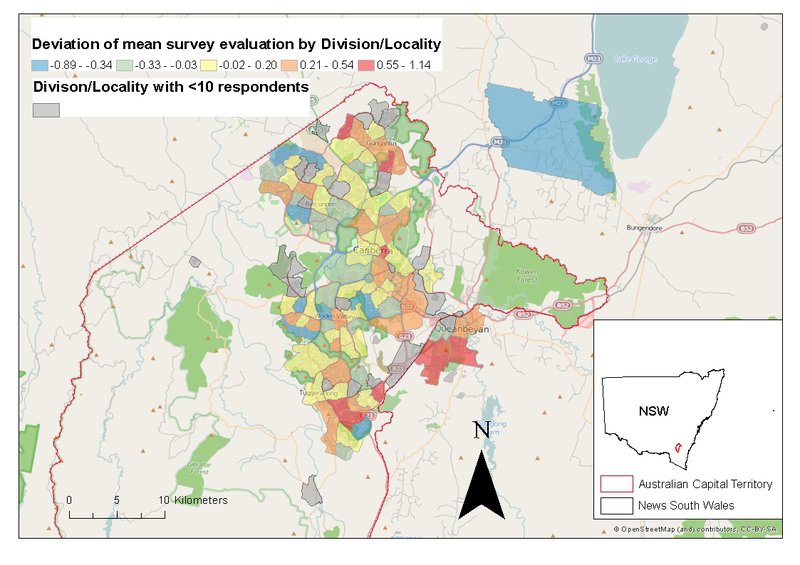 Figure 3. Hotspots for hay fever suffering in Canberra and the region for 2014. Suburbs marked in red are those where respondents reported the highest levels of hay fever suffering throughout the season. Suburbs marks in blue show a strong negative deviation from the mean implying low levels of hay fever suffering across the season.
The reason for these hotspots remains unclear as there are no obvious correlations with environmental factors (e.g. proximity to grasslands) or socio-economic factors (e.g. average income or average age) that distinguish these suburbs from others in the region. One factor that may be worth further examination is the possibility that a higher proportion of residents in these suburbs may be made up of people who did not grow up in Canberra, but have moved here from interstate in the recent past, and therefore are potentially more susceptible to suffer from new-onset hay fever due to being exposed to a new environment with high pollen counts. While we can speculate on the possible causes it's also important to remember that this is the first year of our survey and with additional seasonal data the propensity for a suburb to be marked as a hotspot for hay fever suffering may change over time.
When the 2015 spring/summer season starts again please keep those survey responses rolling in as they will help us enormously to improve this service.