Oct. 1, 2020
Canberra is renowned as the hay fever capital of Australia, with as many as 1 in 3 people suffering from hay fever during the spring grass pollen season. Its been 5 years since we had a big hay fever season in Canberra and we predict that this year is likely to see the return of a bumper grass pollen season.
In the spring of 2014 and 2015 Canberra Pollen Monitoring team reported bumper grass pollen levels in the air through the months of October and November, where we suffered through on average 16 days of HIGH* grass pollen and 3 days of EXTREME* grass pollen. These years were characterized by wet winters and above average soil moisture that increased grass cover and vegetation productivity throughout the spring season. During the drought years of 2016-2019 the grass pollen levels where much lower with an average of only 3 days of HIGH grass pollen and 0 days of EXTREME grass pollen.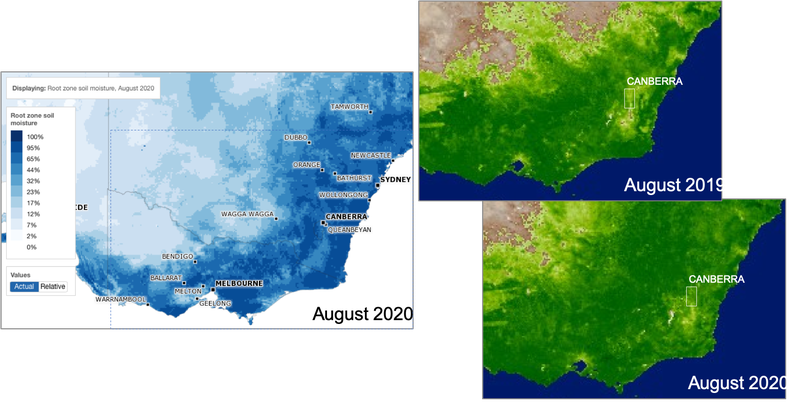 The average wet autumn and winter of 2020 has once again increased soil moisture and raised the productivity levels of grasslands in the Canberra region. This means that Canberra is on-track to experience at least as many days of HIGH to EXTREME grass pollen levels as we experienced in 2014-2015. The BOM is predicting a wetter than average October and November which is likely to prolong the grass season, though one caveat is that rainy days can suppress pollen levels by washing it out of the atmosphere – a phenomenon that reduced the overall grass pollen in 2015 to below expected levels.
What can you do to help reduce the impact of hay fever on your daily life?
In a recent twitter thread @CanberraPollen outlined 14 ways in 14 days to learn more about pollen and to mitigate the impact of allergenic pollen on your daily life. Check it out for some god tips and tricks to get through the pollen season.
The @MelbournePollen crew continue to give good advice with ways of surviving the allergenic pollen season. First and foremost we advise you should visit us regularly to keep track of the daily grass pollen count. This is particularly important during thunderstorm periods and when the pollen count is HIGH to EXTREME. Canberra has the potential to experience thunderstorm asthma events and our forecasts is one way of being prepared and reducing risk of exposure.
"People with hay fever should also remember that symptoms such as wheezing, breathlessness, chest tightness and a continuous cough are not related to hay fever and may mean you also have asthma. These symptoms may come and go or you might not have all of them. But it's important to talk to your doctor and get it checked out.
People with asthma should ensure they have an up-to-date asthma action plan, take any preventer medication as prescribed, and always carry their asthma reliever puffer with them. If people with asthma develop asthma symptoms, they should follow their asthma action plan, or if they don't have one yet, follow the 4 steps of asthma first aid."
(from melbournepollen.com.au)
* To aid interpretation, the average number of grass pollen grains per cubic meter of air is classified as shown in the table below
No. of Grass Pollen Grains Classification
0-19 LOW
20-49 MODERATE
50-99 HIGH
>100 EXTREME