Sept. 29, 2019
After one of the driest winter periods on record we are likely to face a relatively light grass pollen season… but how do we know that?
One of the key factors that drive a heavy ("Godzilla") or light ("Bambi") grass pollen seasons is the rainfall that falls in the months before the grasses flower. Good winter rainfall can raise the soil moisture levels and in turn increase grass growth in the spring months. But after one of the driest starts to a year on record and winter rainfall being well below average for the ACT we are not expecting a heavy pollen season in the spring months ahead.
Two measures of environmental conditions can tell us a lot about what to expect in the forthcoming grass pollen season. Soil moisture is a critical component when it comes to plant growth. As soils warm through early spring, the amount of water available to plants – the soil moisture level – is a major factor determining growth. Figure 1 shows moisture levels in soils across southern NSW and Victoria for the month of September and indicates that Canberra is experiencing very much below average moisture levels during early spring. If soil moisture translates into grass growth, then this will be reflected in the vegetation greenness or "normailised difference vegetation index" (NDVI) derived from satellite imagery.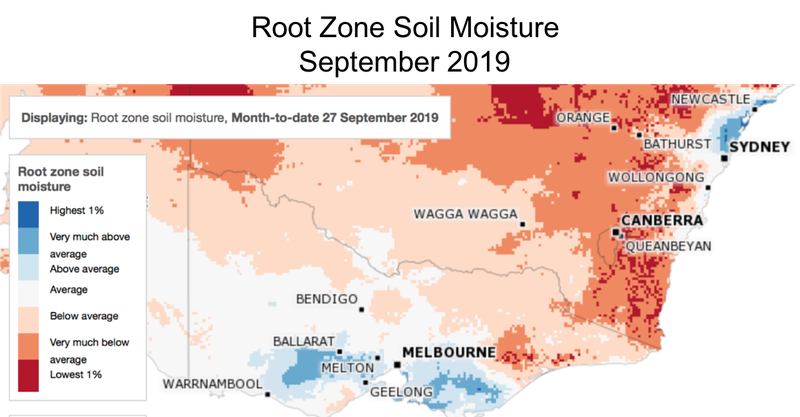 Figure 1. Root zone soil moisture levels for the southern NSW (including Canberra) and Victoria for September 2019. Images provided by the Bureau of Meteorology and NASA/USGS.
A comparison between greenness during Autumn of 2015 and the same month of 2019 (Figure 2) clearly shows the difference in vegetation productivity between these years. The grass pollen season of 2015 was a particularly troublesome year for hay fever and asthma sufferers in the ACT. If the low greenness for August 2019 is any indication then Canberra and the region is likely to experience much less grass pollen in the air during the spring of 2019 compared to the heavy year of 2015.

Figure 2. Satellite images of vegetation greenness comparing August 2015 (left) and August 2019 (right). Images provided by the Bureau of Meteorology and NASA/USGS.
In contrast to the situation in Canberra, further south in Melbourne the grass pollen season is likely to have a much worse than Canberra - but this outlook isn't locked in. For instance, if mid spring rainfall increases in the ACT then there will likely be some increase to the size of the 2019 grass pollen season for Canberrans.
How you can prepare
People with hay fever should learn asthma first aid, see their GP if they think they may also have asthma, follow their hay fever treatment plans and have asthma reliever medication suitably available. People with asthma should ensure they have had recent review with their doctor and achieved good control of symptoms. Also remember to take any prescribed preventer every day, even if no symptoms, have an asthma action plan that includes thunderstorm asthma, and always carry their asthma reliever with them.
Remember, everyone should avoid thunderstorms in grass pollen season (October-December and late January-early February) especially the wind gusts that proceed them. Grass pollen counts and forecasts will be available at www.canberrapollen.com.au and via our free mobile app and are updated daily at around 10:30am. (Thanks to MelbournePollen for shared content)