Dec. 18, 2021
Thunderstorm asthma events are extremely rare phenomenon - but when they occur they can impact a large number of people in a very short period of time. On 21st November 2016 in Melbourne a catastrophic thunderstorm asthma event occurred and resulted in 10 deaths and over 9,000 presentations to hospital emergency departments on a single day. Investigations after the event have suggested that only some thunderstorms can results in grass pollen grains (and possibly involving fungal spores) being swept up into the air and then rupturing due to osmotic shock, releasing a large amount of smaller allergenic particles. These allergenic particles are small enough to get past the nose and throat and reach deep into the lungs inducing an allergic response.
While the combination of thunderstorms and high grass pollen levels appear to be necessary factors in the development of thunderstorm asthma, these events remain extremely rare suggesting that there may be many other factors at play in the development of a thunderstorm asthma event (Figure 1). See the latest on the global phenomenon of thunderstorm asthma by D'Amato et al. (2021) "Thunderstorm asthma and allergy: state of the art" Multidisciplinary Respiratory Medicine, 16:806.
Figure 1. Model of a thunderstorm asthma event (Asthma Australia).
What is the state of play in Canberra?
The slow start to the grass pollen season in Canberra was quickly corrected in mid-October by a dramatic rise to unprecedented daily concentrations of airborne grass pollen. We saw not only the record daily grass pollen count (510 grains/m3 on 17th November, 2021), but also the most number of EXTREME grass pollen days in the grass pollen season - now 26 EXTREME days and still counting! (Figure 2). This can be compared to our previous record year (2020) when we only experienced 7 EXTREME grass pollen days across the October to December season.
Figure 2. Comparison of the daily grass pollen counts for October-December 2021 and 2020 in Canberra. The histogram shows daily counts colour coded to match the accepted pollen levels reported by CanberraPollen.com.au. The number of extreme days for the these months are also displayed. The line graphs depict the cumulative grass pollen count from 1st October through to 31st December for each year. The average across all years is shown with the dashed brown line (average across recorded years 2007-2009 and 2014-2020).
An update on previously reported comparison between the daily grass pollen counts for the 2020 and 2021 October to December season (Figure 2 and 3) shows the longer and stronger nature of the 2021 grass pollen season - one that shows no sign of abating with recent rains and warming weather maintaining the green and highly productive grasses in and around Canberra. Figure 3 also includes all previous years where we have cumulative grass pollen counts and highlights the extraordinary nature of this years grass pollen season compared to all others.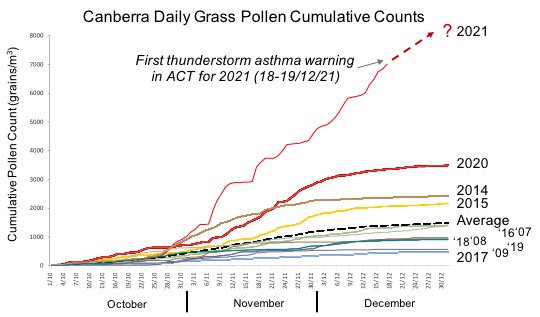 Figure 3. Cumulative grass pollen count from 1st October through to 31st December for the period 2007-2009 and 2014-2021. The data summarizes the grass pollen count from the lowest record season (2017) to the highest pre-2021 record season which occurred in 2020. The average cumulative pollen count is shown as the black dashed line (including counts from 2007-2009 and 2014-2020). The cumulative grass pollen count for 2021 up until 17th December 2021 is shown by the red line with an unknown trajectory for the second half of December indicated by the dotted red line.
One factor that seems to be exacerbating the longer and stronger grass pollen season this year is the persistent and highly productive regional vegetation cover driven by La Nina rains that are widespread across SE Australia. Figure 4 shows satellite images of vegetation greenness across SE Australia during a moderate El Nino quarter (Nov-Dec-Jan 2009-10) when the cumulative grass pollen count was low compared to a moderate La Nina quarter (Nov-Dec-Jan 2020-21, right) when the grass pollen count was high.
Monitoring these satellite images and the information they can tell us about vegetation productivity is one way of helping to predict when a bumper season is on the horizon (Devadas et al. 2018 Dynamic ecological observations from satellites inform aerobiology of allergenic grass pollen. Science of The Total Environment, 633:441-451).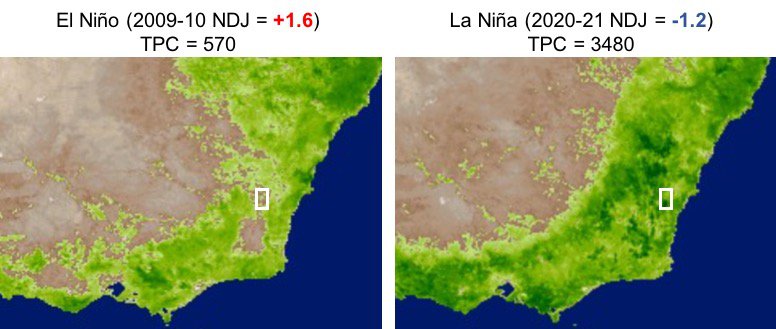 Figure 4. Maps showing satellite images of vegetation greenness across SE Australia (ACT in white box) in a moderate El Nino quarter (NDJ 2009-10, left) and a moderate La Nina quarter (NDJ 2020-21, right). Images provided by the Bureau of Meteorology and NASA/USGS.
When a thunderstorm asthma warning is issued people with hay fever should follow their hay fever treatment plan (or see their GP or pharmacist to get a plan if they don't already have one). Be aware that even those who have not experienced hay fever or asthma in the past may experience symptoms related to thunderstorm asthma.
Also for asthma sufferers remember to take any prescribed preventer every day, even if no symptoms, have an asthma action plan that includes thunderstorm asthma, and always carry your asthma reliever with you. Having good control of your asthma and hay fever will mean you'll feel better and also reduce your risk of thunderstorm asthma.
We'll continue to keep you updated on the progress of this extraordinary pollen season through the @CanberraPollen twitter handle and through the Canberra Pollen app and website. Be sure to check out the AirRater app and website for a geospatial perspective of the pollen and smoke data.