Nov. 3, 2016
The Canberra Pollen Monitoring Program recorded its first HIGH (>50 grass grains/m3) grass pollen count this spring on the 3rd November, which is significant for a number of reasons. The first is that it marks the beginning of the peak period of grass pollen production in the region, a period when grasses are flowering in abundance and producing enough pollen to generate widespread hay fever and asthma suffering in the local population. The second is that it has been preceded by a period of relatively wet and cool temperatures (particularly night time temperatures) that may have suppressed the onset of high pollen production in the grasses over September to early October. Nevertheless we have seen MODERATE (>20 grass grains/m3) grass pollen counts recorded as early as the 6th October which can be considered the the beginning of the grass-related hay fever season in Canberra. What this also means is that there are likely to be more HIGH grass pollen days in the coming weeks as the warmer and drier weather will be well suited to high pollen production, and this pollen will be particularly abundant in the air when there are strong NW to NE winds blowing.
The graph below shows the relationships between rainfall, grass pollen count and hay fever symptom score for the Canberra region since 1st Septempber to the 3rd November 2016. Our hay fever survey certainly appears to confirm the general principle that when grass pollen increases in the air we breath people suffer more from hay fever symptoms. While this may seem to show the "bleedin' obvious" it is important to try to understand when people begin to suffer, how many people are suffering and where they are sufferring the most. These are some of the main aims of the Canberra Pollen Monitoring Program and we will be bringing you further updates and results from our work over the season.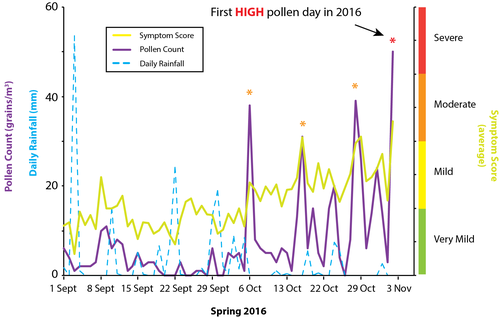 First HIGH grass pollen day for Canberra in 2016 recorded on 3rd November. This coincides with the highest Symptom Score (average) recorded via our @CanberraPollen app. The high rainfall during September and into October may have played a role in suppressing grass pollen production this year. * marks Moderate to High grass pollen days and these correspond to days when the Sypmtom Score increases.