Nov. 9, 2014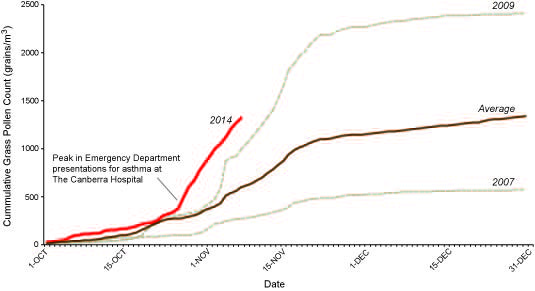 In an article published in The Conversation a month ago I suggested that Canberrans were in for a torrid time in the hay fever stakes. One of the reasons for this prediction was the observation that good winter rains followed by a mild to warm spring have produced conditions ideally suited to grass growth. In the previous decade the grassy paddocks that surround our city have at times been hit by drought and fires reducing grass growth and lowering the potential for flowering and pollen production.
But how is the grass pollen count tracking this season and what might we expect over the next few weeks? One way of assessing how the season is progressing is by looking at the cumulative total of grass pollen grains. That is, add each daily count to the sum of all the previous daily counts from October 1 – that's the red line in today's graph – and compare that line to the cumulative counts of other seasons. The brown line is our average grass season and the two dashed lines are our worst season in 2009, when the cumulative total of grass pollen grains of over 2500, and our mildest season in 2007, when the total was just over 500 grass pollen grains.
Despite only having 4 years of pollen season data for Canberra (2007-2009 and 2014), we can get a sense of the difference between this years grass pollen season and the previous records depicted in the graph. What stands out is the significant gap between the all previous measures of cumulative pollen and the 2014 line. This in part is related to an earlier start to the rise in pollen count (last week of October), compared to other years where this rise in the graph starts around the 1st November. The steepening of the 2014 graph also coincides with the onset of the current record stretch of HIGH/EXTREME pollen days, which may have contributed to a spike in asthma-related presentations to The Canberra Hospital on the 26th October.
Our predictions suggest that this trend is set to continue for at least another week or two in Canberra and we are on track for one of the longest and highest levels of grass pollen recorded (compare this to the Melbourne record where they are having a very mild season).
Will this pattern of longer and more extreme pollen counts continue in the future? At this stage its too early to tell, but one thing is certain, we will only know for sure if we can continue to measure the pollen content of our air into the future and be able to use this research to keep the population of Canberra informed about the changing state of the pollen count.
By Simon Haberle