Nov. 2, 2021
In the last week of October we recorded a series of 6 straight days of EXTREME to HIGH grass pollen, including one of those days being a record for grass pollen for the last 10 years of sample collection (199 grains/m3 on the 29th October, 2021). Figure 1 shows the daily grass pollen counts for this season starting from 1st September through to the 1st November. The sudden rise of grass pollen to EXTREME levels (>100 grains/m3) starts on the 27th October, which is more than one week earlier than the first EXTREME grass pollen day recorded in 2020.
The slow start to this years grass pollen season is best explained by the cooler daily maximum temperatures in October (2 deg C cooler in 2021 than for the same time in 2020) with both years being characterised by high winter and spring rainfall.
Figure 1. Daily grass pollen counts for Canberra, September to the beginning of November 2021. The histogram shows daily counts colour coded to match the accepted pollen levels reported by CanberraPollen.com.au.
The graph in Figure 2 provides an update of the pace of change in the grass pollen season this spring by plotting the cumulative grass pollen count since October 1. The graph for 2021 (red curve) is compared to previous selected grass pollen seasons, including the record grass pollen season of 2020 and the lowest grass pollen season of 2017.
This years grass pollen season is most similar to that of 2014, when we recorded a rapid rise in grass pollen around the end of October. 2014 is notable due to a stretch of HIGH/EXTREME grass pollen days recorded at the end of October, which may have contributed to a spike in asthma-related presentations to The Canberra Hospital on the 26th October.
We will continue to monitor the daily grass pollen count to see if the season unfolds as it did in 2014 or if it matches or exceeds that recorded in 2020.
Either way it seems we are in for another bumper year of grass pollen.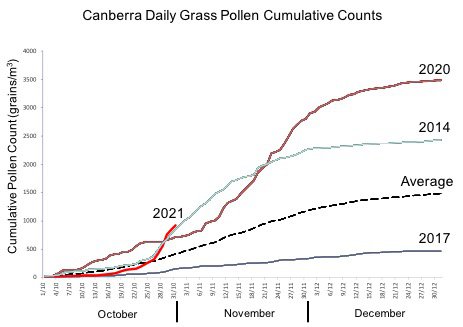 Figure 2. Cumulative grass pollen count from 1st October through to 31st December for the period 2007-2009 and 2014-2021. The data summarizes the grass pollen count from the lowest record season (2017) to the highest record season in 2020. The average cumulative pollen count is shown as the black dashed line (including counts from 2007-2009 and 2014-2020). The cumulative grass pollen count for 2021 up until November 1 2021 is shown by the red line.